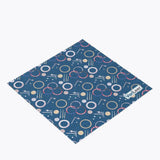 Introducing the ultimate cleaning buddy for all you Rolex lovers out there - the Rolex-themed microfiber cloth! This cloth is not just any ordinary cleaning cloth, it's a statement piece that shows off your love for luxury watches.
At 30x30cm (or 11,81x11,81 inches), this cloth is the perfect size to keep handy for all your cleaning needs. Whether you want to keep your Rolex sparkling clean, your sunglasses smudge-free, or your phone screen crystal clear, this cloth has got you covered.
Crafted from premium microfiber material, this cloth is gentle yet effective at removing dirt, dust, and smudges.
But let's be real, the best part about this cloth is the stunning Rolex design. Featuring the iconic Rolex coronet, fluted bezel, bezel inlays and more. Plus, a sleek dark blue background, this cloth is a must-have accessory for any true Rolex enthusiast.
So why settle for a boring old cleaning cloth when you can have one that's both practical and stylish? Order your Rolex-themed microfiber cloth today and give your cleaning routine a touch of luxury.
When you purchase one of our straps, you'll receive this Rolex-themed microfiber cloth for free, and we'll ship it to you for free as well! It's the perfect pairing for your new strap. Don't miss out on this amazing deal - order your strap and get your free cloth!
You don't need to add this cloth to your cart. The cloth will automatically be added to the package when you purchase the strap.